Most Powerful LED Rechargeable Torches Of 2023
Torches have been a huge part of the outdoor gear collection, no matter if you want to live off-grid for a couple of days or cycle after dark, torches are important for your safety and outdoor experience. outdoor enthusiasts carry several torches in their backpacks while traveling, one powerful LED torch as the main torch, and a couple of backup torches which are generally smaller and less powerful. In this article, you will get the latest update on some of the most powerful torches, and a couple of backup torches that carry a bunch of light too.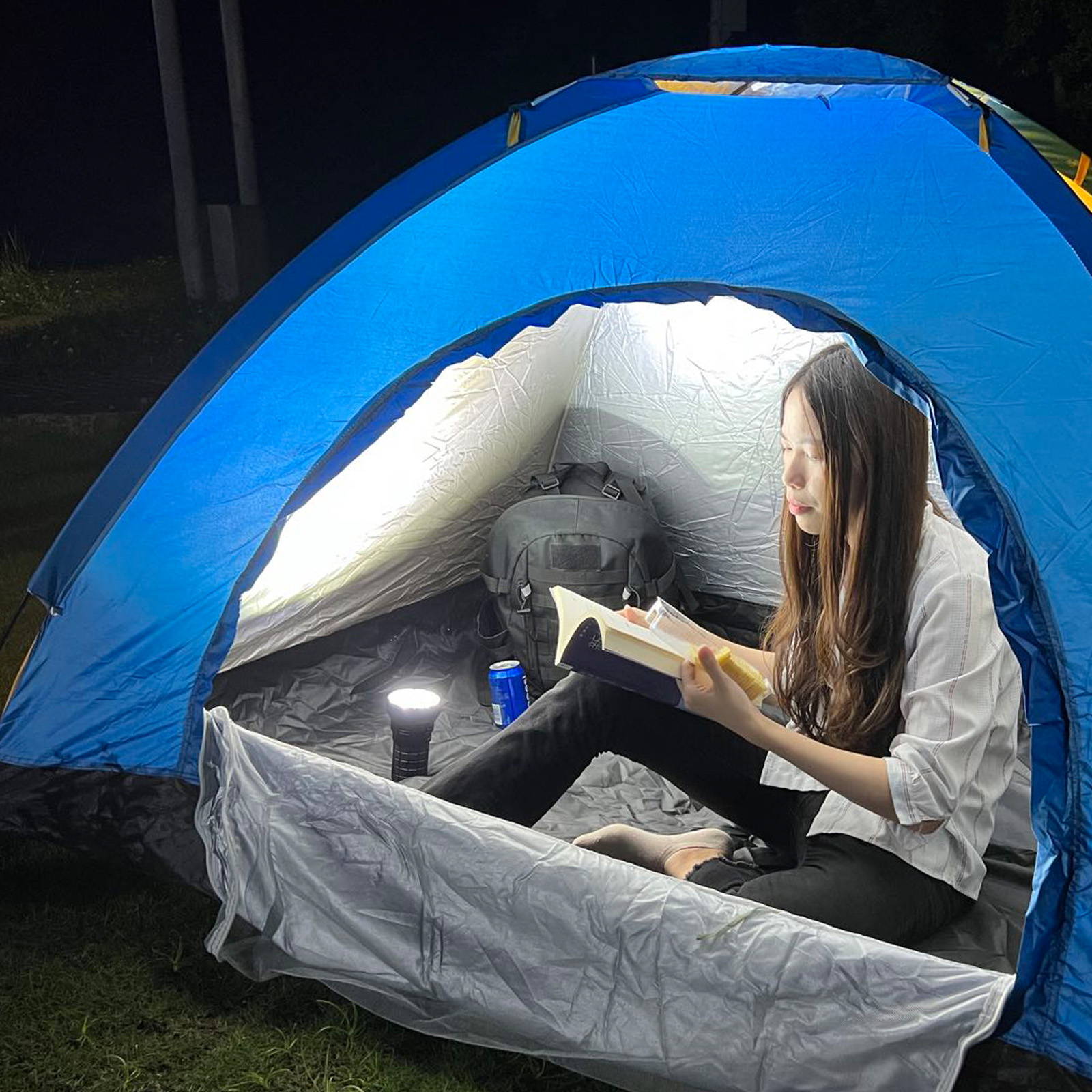 How To Measure The Brightness Level Of Torches? - Lumen & Candela Explained
In short, Lumen is the amount of light output from a torch, it's the total amount of visible light to naked human eyes, and candela is the unit of luminous intensity, how much light a light source emits in a particular direction. The most often used measurement with torches is lumen, the higher the lumen output, the brighter the torch is.
How many lumens do I need for my applications?
For different applications, the requirements for different brightness levels vary. Listed below are some of the common tasks that request the help of torches.
50 - 500 Lumen | Keychain Torch, Mini Torch
If you only need a torch to help you find the way to the loo after dark without waking up your family members, then a 50 - 100 lumen torch is good enough, its the same kind of brightness your smartphone is capable of giving, torches with a lumen output like this are only suitable for indoor uses.
500 - 2,000 Lumen | EDC Torch, Head Torch, Tactical Torch
Most of the EDC torches, head torches, and tactical torches can fit into this category. A torch like this can light up whatever is in front of you just fine. With a 2,000 lumen output, you can light up things from a distance too. While most of the tactical torches are equipped with a strobe mode, they are also larger than EDC torches. These torches are best for cave exploring, cycling, and other activities that don't need to illuminate large areas.
2,000 - 10,000 Lumen | Soda-Can Torch, Small Powerful Torch
A small powerful torch can be easily carried in your pocket because the nature of these torches are powerful and bright, they are widely used for outdoor activities such as camping, cave exploring, night travel, ranch security, and in certain emergency situations.
10,000 - 80,000 Lumen | Powerful Torch, Professional Torch
Powerful torches are not messing about, they can produce a large beam that illuminates a small hill or a football court while remaining compact and durable. They are mostly used by professionals such as police departments, ranch owners, farmers, security teams, and more.
80,000 + Lumen | Professional Torch, World Brightest Torch
There is only one torch that can produce over 80,000 lumen output, while 80,000 lumens is already 20 times brighter than a set of car's headlights, the Imalent MS18 claim the title of "world's brightest torch" with an astonishing 100,000 lumen output. The MS18 is widely used by professionals such as border patrol, ranch owners, police departments, shoreline security, and more.
What's the Most Powerful Torch I Can Buy?
The most powerful torch you can buy in the UK is the Imalent MS18, either you want to illuminate the valleys of The Lake District National Park or the fields of Scottish farmers, MS18 can bring the day back at night with a simple click. The reason why MS18 has been favored by professionals is not just its incredible brightness, with 8 21700 rechargeable Li-ion battery cells, a built-in cooling system, an OLED screen, and an aluminum alloy body, It's the finest piece of machine for large area illumination.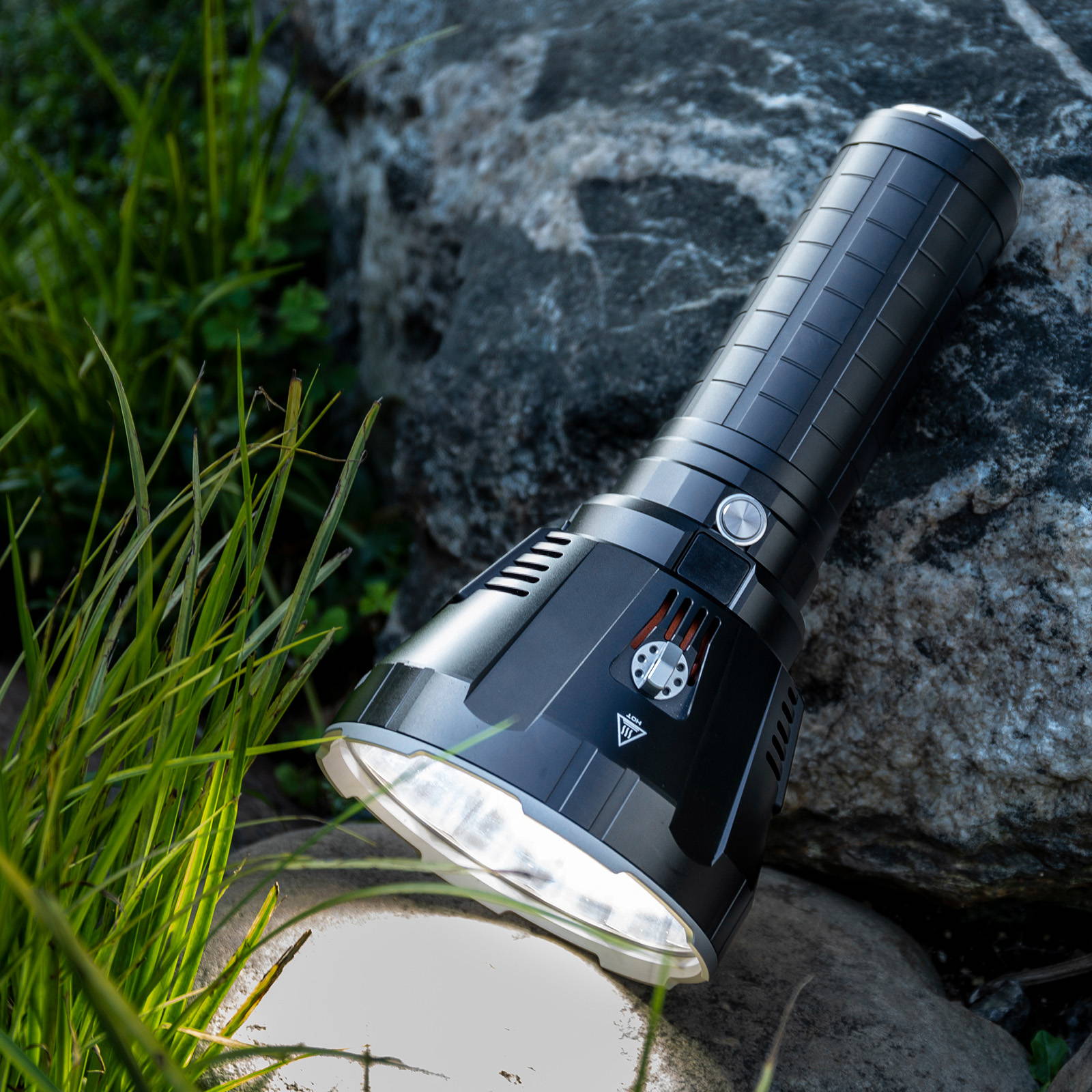 What's the Brightest Mini Torch in The UK?
Mini torches are normally the least powerful type of torches, while most of the mini torches merely produce no more than 500 lumen output, the Imalent LD70 mini torch stands out with a max 4,000 lumen output. The reason is the uncompromising use of best materials, LD70 uses a CREE XHP70.2 LED and is powered by a high-drain, high-capacity built-in 1100mAh 18350 Li-ion battery. It's the perfect light for cycling, night walking, repair work, and more. The LD70 also comes with a premium feature that was only seen on tactical torches before, the strobe mode. Weighs only 87 grams and can be easily hung on your key-chain, the LD70 is the brightest mini torch available in the UK.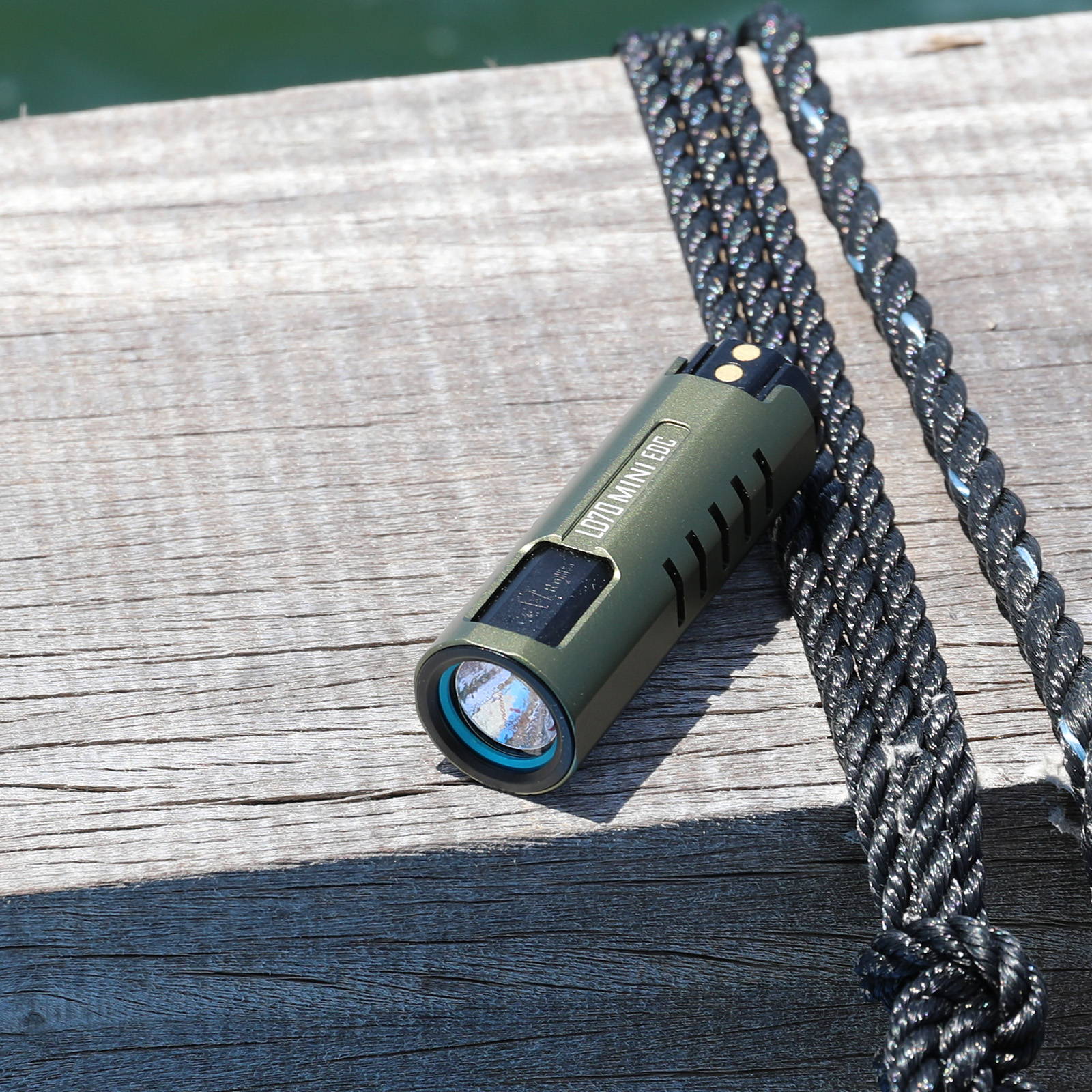 What's the Brightest Small EDC Torch in the UK?
An EDC torch is perhaps the most favored option by many, it's super compact and produces enough light for most of the basic outdoor lighting needs. The brightest small EDC torch surpasses its peers by far in lumen output, and it's the 13,000 lumen output torch - Imalent MS03. Features 3 pieces of CREE XHP70.2 LEDs, the MS03 produces the same amount of beam which only a can-size torch can bare.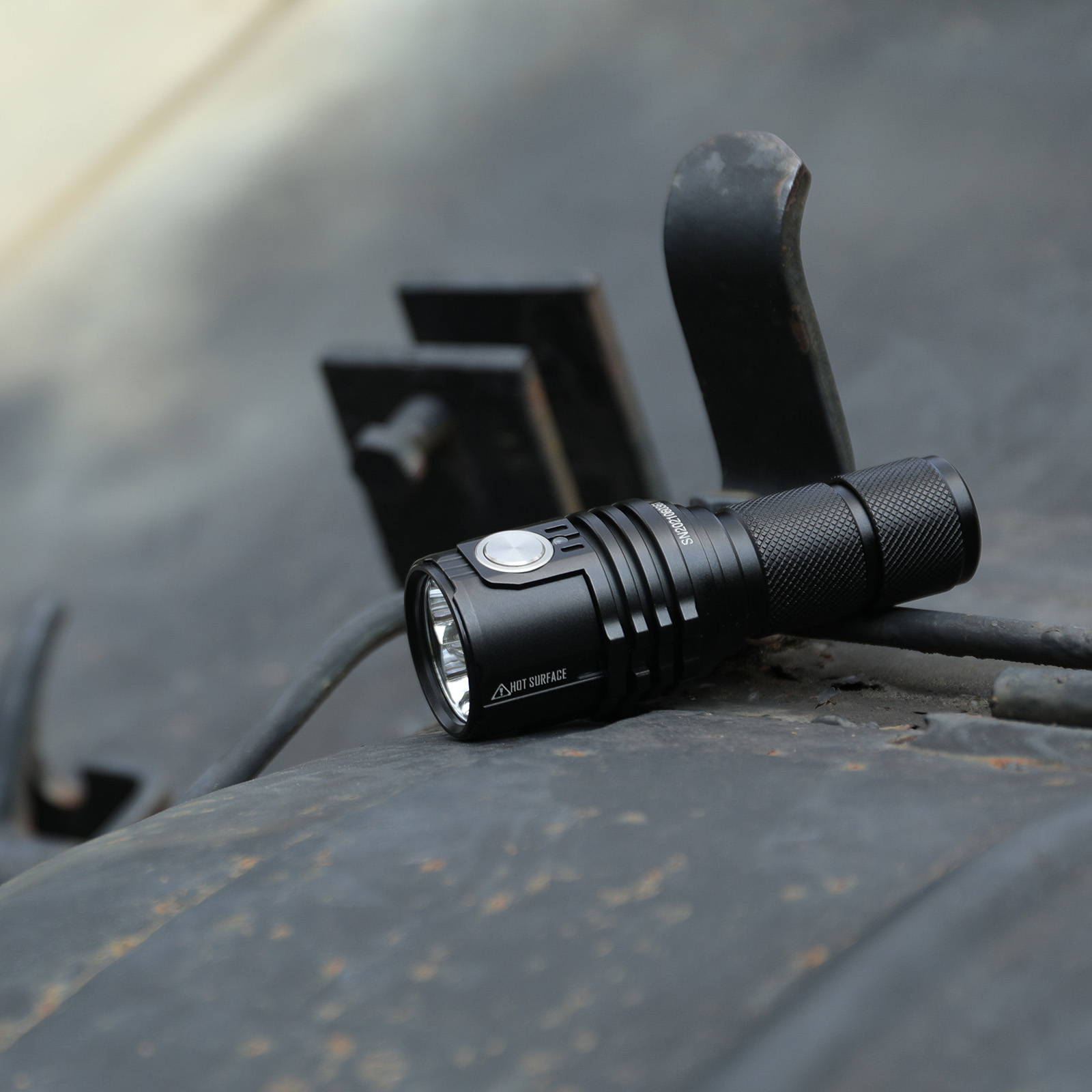 What's the Brightest Long-Throw Torch in the UK?
Long-throw torches are built mostly for search and rescue missions in complex terrains, the brightest one by far is the Imalent SR16 with a staggering 55,000 lumen output. As a searchlight, the SR16 is specifically designed for maximum throw distance, 1715 meters of bright and thick beam comes from the SMO reflector, and 16 pcs of CREE XHP50.3 LEDs, a metal handle added for maximizing portability, the SR16 is the brightest long-throw torch that's practical and exceptional.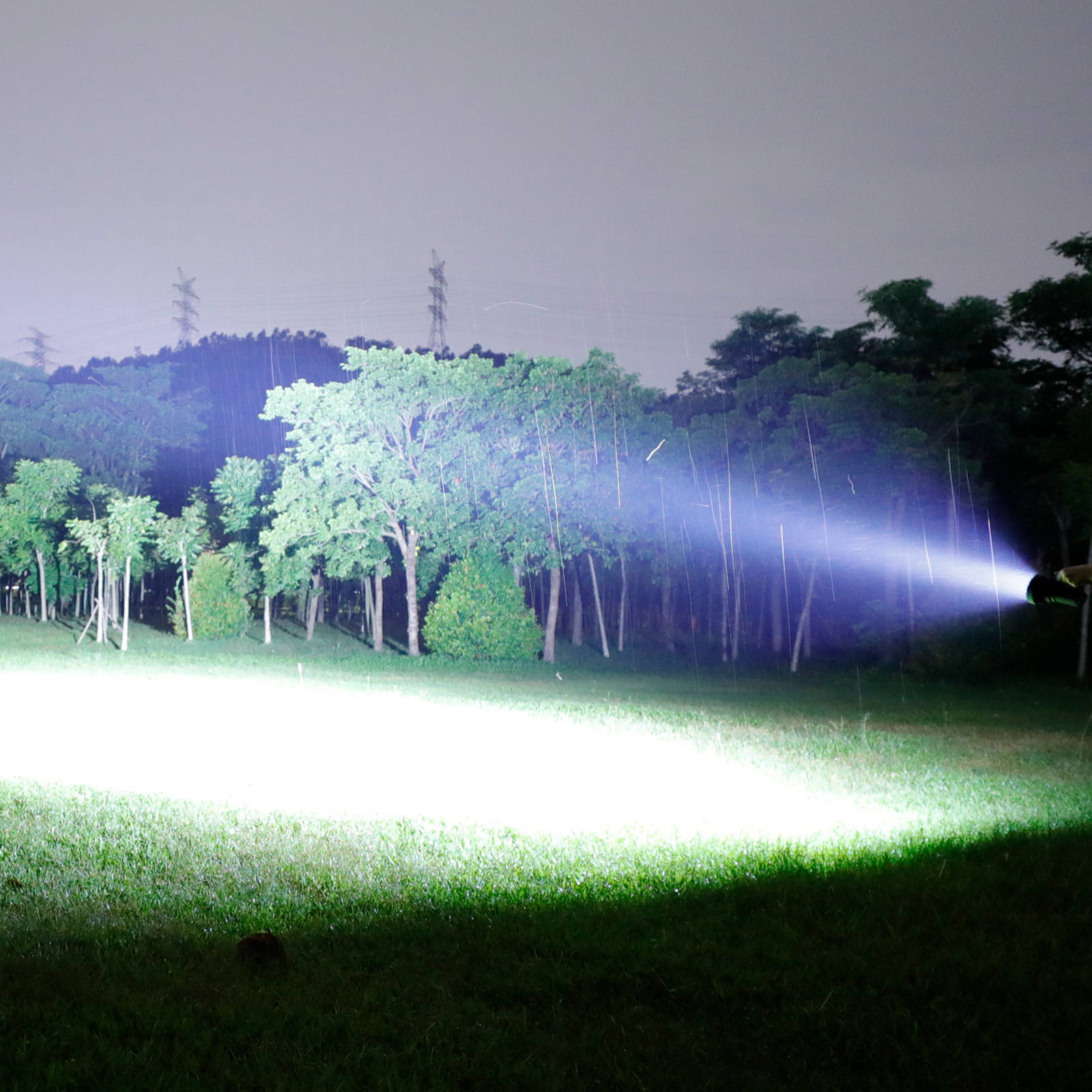 What Are The New Torches Worth Expecting?
The Imalent is due to release its newest powerful LED torch model on March 2023, a 120,000 lumens long-range torch called IMALENT SR32.
What's The Right Torch For Me?
Finding the right torch might seem complicated than you anticipated. The difference in lumen output, beam distance, LED types and other features can be overwhelming to choose from, that's why here are few key features that you'll need to look for when using a torch.
Consider lumen output as the key feature when choosing a torch, you would prefer a torch that's brighter than you need instead of one that is less efficient than what you wanted. The lumen output and size ratio is a huge part of the decision-making process as well, although smaller torches are generally less powerful, Imalent emphasizes great performance in lumen output, and lumen output: size ratio.
Portability is important, carrying a torch bare-handed might seems to be less a hard-work, but brighter torches tend to be heavier, and a few extra pounds might feel like a pain when you are traveling in complex terrains. Choose the size of the torch wisely, you'll need it in harsh environments, and make sure they don't drag you slow.
Always choose a rechargeable battery for its large capacity and eco-friendly nature, disposable batteries are cheaper but they can't be reused, and purchasing a rechargeable one saves you money in the long term.
It's incredible to see the performance of these bright torches, they are superior in lumen output as well as lumen: size ratio, we listed several torches all of them are from Imalent, solely because it's true that Imalent produces the brightest torches in almost all categories. If you are interested in powerful LED torches, make sure to check out Imalent's LED torch collection.