A powerful flashlight is the one which dominates all ordinary flashlight features in the market. Imalent is the world leader when it comes to powerful flashlights, and holds the record for the brightest LED flashlight.

IMALENT has always thrived to push the limits of the torches world, and we are passionate about reaching the highest standards and rewrite the limits of torches technology.
In the torch industry, we always prefer to challenge the status quo, and it excites us to produce the next iconic powerfultorch. It all starts with the idea of - a powerful and portable illumination solution - We've launched several series of powerful torches for various use such as S&R, outdoor adventure, EDC use, and other special requirements. Some of these torchess have been equipped by Police Departments, National Military, National Border Control, Fire Departments, etc.
We are grateful for how our community can be a place for torches enthusiasts with similar values to share their passions and interests. We believe that the personally lighting products are in line with people's ambition to explore the rest of the world, and unveil what's hidden. Consequently, we build products to fulfill your desire for explore or save lives wherever and whenever you need them.
IMALENT started our own factory and brand in 2012, ever since, we actively sourcing the best talent and innovative technology we could find, and built our name as the brand that produces some of the brightest torches, each of our MS series torchess is a lumen monster, including the world's brightest torches MS18 with astonishing 100,000 lumen output.
At the same time, we actively working with artists and content creators all around the world, our torches were featured and participated in movie productions and TV channels such as "The Mummy", "Ready Player One" and "BBC Channel 5 - The Gadget Show". At the same time, warehouses around the globe were established to provide local fast delivery for our users from different regions of the world.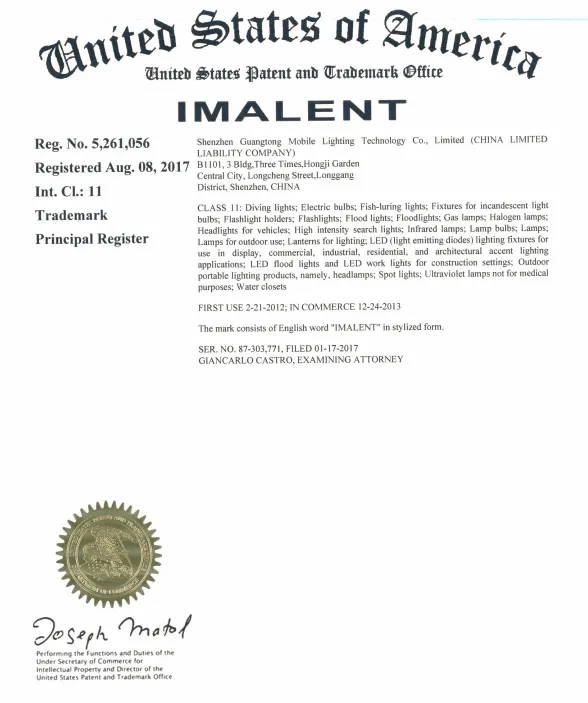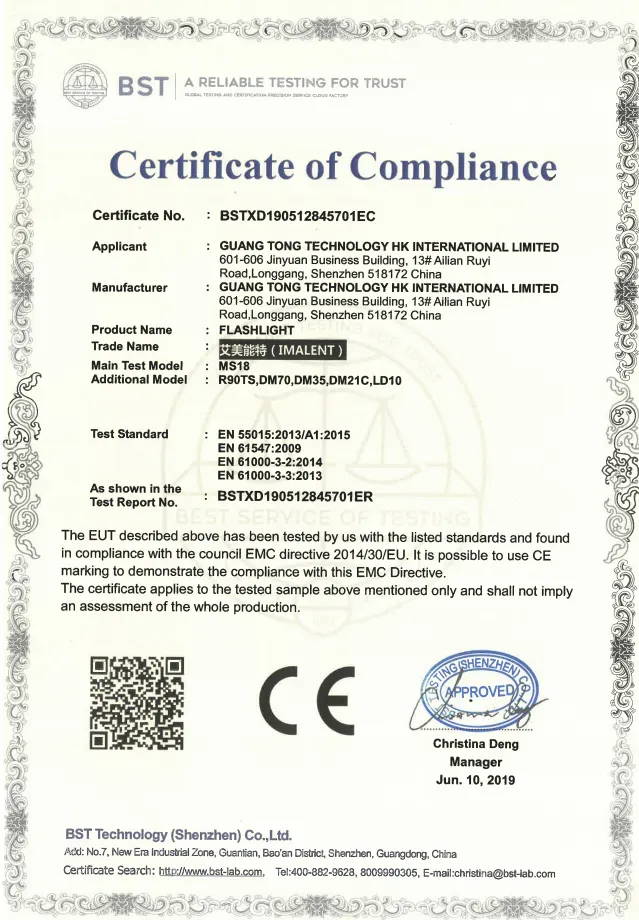 We are committed (in time, research and resources) to be the first to provide torches with the latest LEDs, circuits and features, and always at an affordable prices.
Our official partnership with global LED leaders such as CREE ensures our torches to be reliable and durable for any circumstances. All of which are because we prioritize our product design, build quality, and service over anything else.
Looking forward to 2023 and beyond, IMALENT will continuously honour our passion for the next advanced torches, experimenting new features and technology which excites our torch community, while at the same time, stay true to our belief which is what two young in-love technicians decided to do long time ago - illuminate the world.
We are extremely grateful to our torch users and community members, it always bring a smile to our faces when we saw the reaction when someone turns on a IMALENT torch for the first time. Meanwhile, their advice and suggestions are also enlightening us to perfect our products and service. We are looking forward to continuing this journey with you, our dear fellow IMALENT family.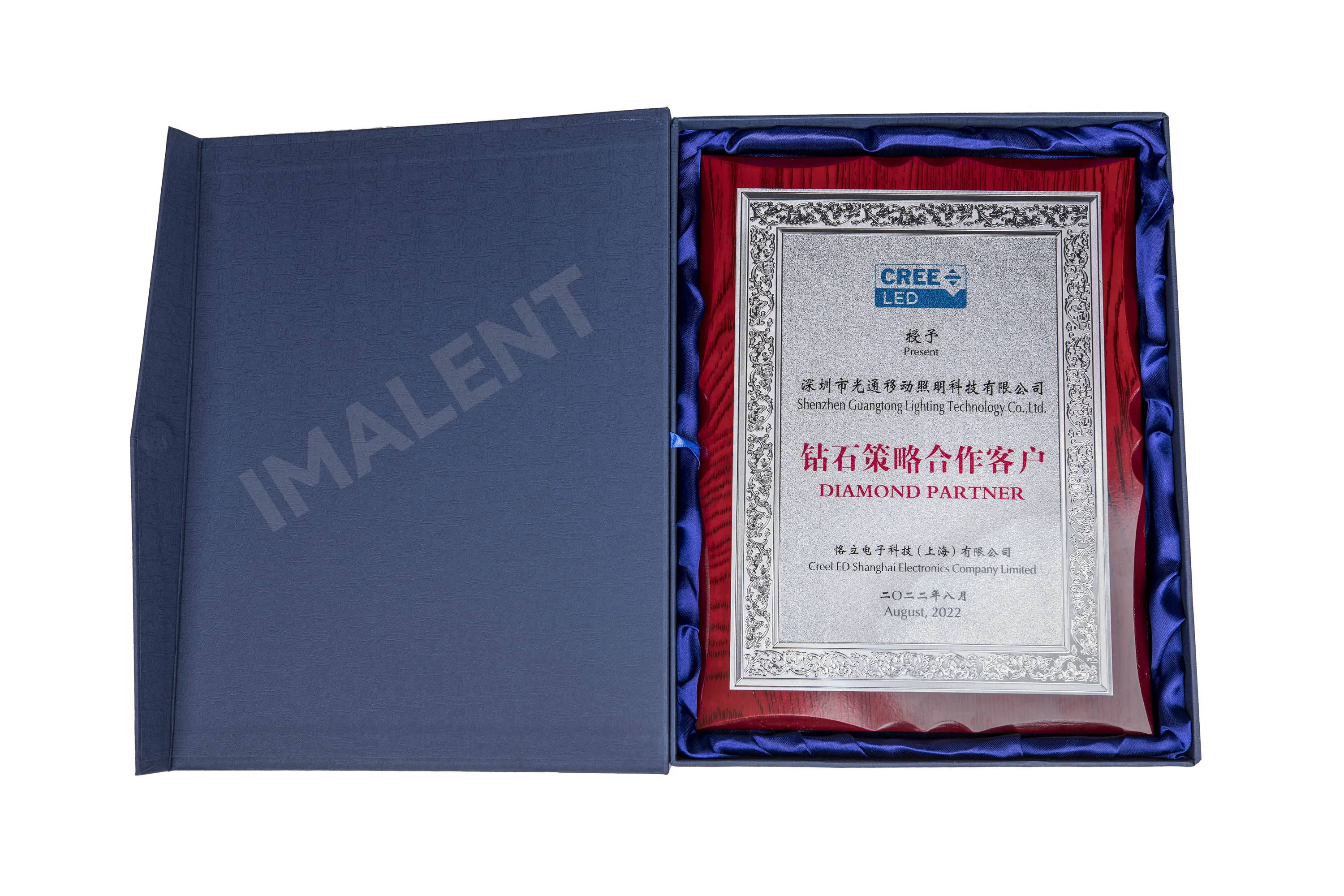 LONG TERM PARTNERSHIP WITH CREE LED
Cree is the pioneer of advanced LED chips and components, their expertise and knowledge in the application-optimized LED made them deep rooted in the lighting industry, Over the past two decades, we have demonstrated our expertise in advanced optical control, color quality, intuitive control and proven product quality by transforming innovation into industry-leading solutions.
Imalent is a Cree Lighting's Diamond Partner. The long-term partnership between IMALENT and Cree Lighting is a top priority, and we take each relationship seriously.
We've always been clear with our purpose. In the infinite game of torch business, we are determined to provide the most reliable torches that can be trusted in Mountaineering, Search & Rescue, Livestock Security, Law enforcement, Military Use and other outdoor activities. While the need of urban lifestyle varies from the outdoor's, we still best serve the need of our customers with our EDC torches.
We are eternally grateful to our torch community and flasholic friends, we started IMALENT hoping to illuminate people's world when they need it, with the help of our supporters and mind alike torch enthusiasts, IMALENT did more than that, lives were saved and used as an alternative light source during hurricanes, and we are grateful to be able to serve our community and customers.
If you have questions about any of our lights, we will answer them for you!
We appreciate all feedback and are happy to meet other torch fans. If you are curious about anything we forgot to mention, please feel free to contact us.
Factory address:
Room 213,ZhichuangLvgu Building
62 Puxia Road,Henggang Liuyue, Shenzhen,Guangdong,
518173
Tel: (+86)18926004450
Fax: +86-769-81291159
Email: info@imalent.com
Factory address: 2nd Floor of Building C, Road 7th of North Hongye, 138 industrial area, Tangxia Town, Dongguan, Guangdong, 523710 China
Tel: (+86)18926004450
Fax: +86-769-81291159
Email: info@imalent.com